March 11, 2016 — BarryK
By Barry Kauler
Page updated: March 12, 2016
This is one page of a series that I am writing on "traveling light", whether it be hiking in the wilderness or wandering the world by boat, bus, train or air.
Over the last few years, I have been a bit of a "tentaholic", accumulating them in my bedroom closet.
It is just that I have been searching for that elusive "ideal" tent ...ha ha, I guess there are others who, reading this, will identify with my obsession.
I decided to write this page, not as a comprehensive review of my tents, but as a presentation about what I consider to be the ideal tent, with brief commentary on what is wrong (and right) with the tents that I own, and others out there ...and I ask, in 2016 have I finally found that elusive ideal tent, or got close to it?
Types of tent for hiking
Before embarking on this page, some very brief comments on the different types of tents available:


Pyramid. One or more vertical poles. Some of these designs make use of trekking poles.
The drawing highlights one of the main problems, the inward-sloping walls, which require guy-lines and stakes to pull them out.



Tunnel. This may be done with hoop poles, or vertical, or a combination.
With hoops, good usable floor area, and a pretty stable design. These need guy-lines and stakes at the ends to stand up.



Dome. The traditional dome tent has two intersecting poles. 4-season dome tents may have 3 or more hoops.
This design is very stable, and potentially free-standing (no guy-lines or stakes required).

The above is a gross simplification, as there are many variations on those three. Combinations of hoop and vertical poles are common, as are domes that reduce the weight of poles by removing one leg of the traditional 2-hoop design.
My tent history, briefly
I was born in 1950, so aged 66 in 2016, and over the years I have owned many tents. As a young fellow back in the 70's, I and my companion had an inflatable dome tent, and we toured Europe in an old Mini Minor. At the opposite extreme, about 15 years ago I owned a tiny tunnel tent, with carbon-fibre hoop poles at each end. About 5 years ago I toured Western Australia by car, and had a large rectangle-frame tent, a room that I could walk around in, plus annex.
Late 2014, I purchased a couple of dome tents, as these were my favourite design type at that time.
Late 2015, I got a bit of a bivy fetish, and ended up buying a couple of bivy-tents. Basically, these a very low tunnel tents, which you can only occupy prostrate. I have very quickly moved on from there.
Early 2016, I have rotated back to dome-like tents. I bought a cheap one from China, with a single pole, split at one end. The most recent purchase was an expensive "proper" (two-hoop) dome tent, very light.
So, I have used many types, and formed some strong opinions. I guess that I should itemise those opinions, to develop a checklist of what my "ideal" tent should be...
The ideal tent
These are my opinions of course. Here goes...
Bug proof
I must have a tent that keeps the bugs out, ground-crawling and flying.

Condensation barrier
In a nutshell, I need a double-wall tent.

Adequate ventilation
Need to pickup every breeze on hot Aussie nights. Need to evaporate moisture. This also relates to point 2.
Freestanding
My ideal is a tent that erects without stakes, and only have to add them if the wind is blowing.
Easy to erect
I want to put it up in minutes, ditto to pack up. Related to point 4.
Light weight
For backpacking, I want about 1kg all-up.
Small packed length
Would like the option of carrying the poles horizontally.

Adequate internal space
Walls should be as vertical as possible. So many tents slope-in so fast, the internal walls touch my sleeping bag -- this relates to point 2.
Reasonably durable
I don't want a tent that breaks on the first trek.
Stable in wind
Not Arctic storms, just the kind of winds typical in temperate Australia.

Vestibule
A bit of sheltered space just outside the door is so handy.

I should add that I do not use trekking poles, and consider them to be useless -- my personal opinion of course! Ha ha, controversial statement! I will concede that they have some use if you have poor balance (you grew up in a city), have bad knees, or are carrying a huge load.
So, my ideal tent requires its own poles. Definitely so if it is to be freestanding.
My tents
Briefly commenting on each tent that I currently own...
Companion 3407
I am mentioning this briefly, as I own it. I think that I acquired it early 2014, don't recall the price. Single hoop, two little poles at the foot end, needs at least 4 stakes to erect.
Interesting compromise, mostly single-skin but with a fly that covers the top (inner skin has a vent in the top). Weight (incl. poles, without stakes) is 1238gm.
Polyester material very sticky after being in storage a couple of years.
Can't find it anywhere on the Internet.



Shengyuan SY-0011
I bought this from China in 2014, a great tent, extremely well made, yet low price. Ticks all the boxes, except not for solo hiking and a bit heavy -- 2 person, weighs 2kg.
Pole segments are 38cm, shorter than most tents.
Still available from Aliexpress, here and here.



Spinifex Hawkesbury
Another 2-person dome tent, only cost me AU$20 at Anaconda, in 2014.
I have used this for solo hikes.
Weight about 1.9kg. No vestibule.
Ventilation not anywhere near as good as the Shengyuan tent.
Anaconda no longer sell it.



Quick Tourer Bivy Tent
Got this late 2015, on-sale from Anaconda, in my "bivy tent phase".
Very quickly decided that it is not for me -- like being in a coffin, only single skin, not well protected from the elements, poor ventilation, too heavy.
One thing in its favour is quick setup and packup, but it is not freestanding.
Still available from Anaconda, here.



Catoma Raider Bivy Tent
I bought this early January 2016, still in my "bivy tent phase". Cost AU$312 (including postage) from Amazon. Very well made, double-skin, light (just over 1kg) and rolls up very small (about 290x120mm).
Absolutely needs stakes.

Quite nice, but I still have the fundamental problem of bivy tents -- feel like I am in a coffin.
Also, the interior is spoilt by the triangle shape at the foot -- there is no clearance, and I just know my sleeping bag is going to get damp.

Available from Amazon, here.




NatureHike NH15T001-T210T
This is a 1-person quasi-dome tent, one main pole, split at one end. It can be freestanding, but really needs stakes.
I bought the gray-coloured one, which is important, as it is 200gm lighter than the other colours.

I bought this as it is cheap, yet well made, light, and more roomy than a bivy tent.
In fact, it weighs only a tad more than the Catoma Raider, and hey, I can sit up in it!

Claimed weight (without pegs) is 1152gm.

It cost AU$126 including postage, from Aliexpress, here.




Big Sky Soul 1P
This is my latest purchase, and the most expensive. I paid AU$507 including postage from the US, the manufacturer's website, here.

Now I have migrated back to a "proper" dome tent, except half the weight of my 2014 purchases.

The base price of this tent is US$149.95, but it may be optioned up, and I ended up at US$297.94. The choices are wonderful, you can make this tent as light as you want, using more exotic materials (and pay more). I was fairly cautious, chose the normal SuprSil fabric and Ultra-Light Alloy poles. Also added a footprint, carry bag and guys/pegs.

Poles have 36cm segments, excellent, but still short of my ideal.




I would like to announce a "winner", but first I do need to flesh out the details of some of these tents...
There are lot of these super-cheap 2-person dome tents around. They have limitations, but certainly worth considering given the spare-change price.
Here is a snapshot taken September 2014, the tent pitched on the Bibbulmun Track: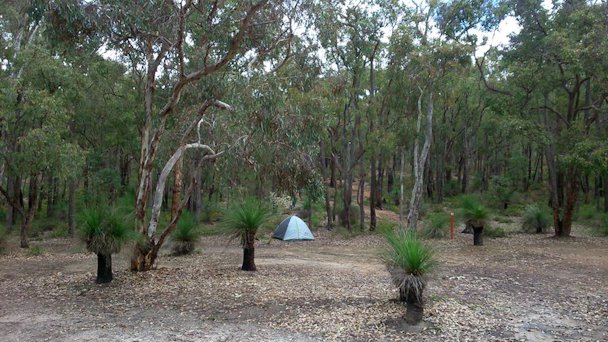 It rained a lot that night, but I was dry and comfy. Technically lacking, it has poor ventilation and no vestibule, but even so, it was surprisingly OK.
One thing that I have noticed with these very cheap dome tents -- be sure that it is long enough inside, so that your sleeping bag foot and head doesn't press against the inner wall -- some of them are too small.
Weight is 1258gm for inner and outer skins, 558gm for fibreglass poles (a bit heavier than original, as I cut them down to shorter segments), and 99gm for my titanium stakes. Grand total of 1915gm.
Applying my eleven-point scoring system, I have given it 7/11, fails points 3 (ventilation), 6 (weight), 7 (packed length) and 11 (vestibule).
As I am into ultra-light trekking, why not go the whole way, and buy a bivy bag? There is, for example, the Outdoor Research Helium Bivy, which is single-skin, has a hoop-pole at the top-end so there is room inside to read or whatever, and only weighs 510gm ...yes, but not so good in hot climates, ventilation is very poor, and condensation is a big issue.
It was those limitations that made me look one-step-up, at dual-skin bivy tents. Hence purchase of the Catoma Raider.
Weight of inner and outer skins, poles, stakes and carry bag, is 1024gm.

If I substitute with my titanium stakes (99gm), the weight drops to 1008gm. Ticks the box on Point-6 above!

The footprint, well, optional, nice to have.


| | |
| --- | --- |
| Inner skin | 417gm |
| Outer skin (fly) | 302gm |
| Poles (2x, alloy) | 134gm |
| Stakes (8x, plastic) | 115gm |
| Carry bag | 56gm |
| Footprint | 170gm |
So, what do I really think about this tent, actually using it outdoors?
Well, before getting that far, I was disappointed, as the official instructional video showed that the stakes and poles came in bags, whereas mine only had elastic bands. There is also a guy-tensioner in the video, that I didn't get. There is one guy-line with a plastic hook, for the foot-end, and mine is more flimsy than the one shown in the video.

So, they are being cheapskates.


Youtube
videos:



Erection is OK. As I already mentioned, it needs stakes, at least two, one at each end to stretch out the top. A practical minimum is 6 stakes.
One thing that I did not like, is that the guy line at the foot-end has to be unhooked then rehooked when the fly is placed.
There is not much separation on the sides, between inner and outer skins, and it would really be necessary to stake-out the fly on the sides, so now 8 stakes are required.
No vestibule. There is no flexibility at all if it is raining, or even just dribbling sometimes. The fly would have to be zippered closed, then you are in a sweat-box. A coffin sweat-box.
I also mentioned the triangle shape at the foot-end. Not good enough, I should have realised that before purchasing it -- there are other similar double-skin bivy tents that have a hoop pole at the foot-end.
I am being harsh, but this tent does have some good points. One is the small pack size -- it even fits horizontal inside my waist pack (including poles).
The rating I have given is 6.5/11. It fails points 3 (ventilation), 4 (freestanding), 8 (space) and 11 (vestibule), with a half-mark for 5 (easy erect).
I will be selling both of my bivy tents. They just don't do it for me.
NatureHike NH15T001-T210T
I have bought most of my tents online, don't get a chance to see them beforehand, so there is an element of gamble. This one has an obvious downside, the triangle-shape at the foot-end -- however, in online pictures it looked more roomy than the Catoma Raider foot-end, so I went for it. It was the advertised weight that decided me (and it is cheap).
This is what the frame looks like:
The frame design does result in a light-weight tent. Major brand names use this same pole design, for example:


Nemo Hornet 1P tent
The Paddy Pallin camping chain store stocks the Nemo Hornet 1P. The same pole structure, a very similar tent, except entry is from the "side".
What the Hornet 1P does show is the efficiency of this design. By use of more exotic materials, it pushes the weight down, to only 910gm packed weight (everything, including pegs).
The advantage of a local store is that you can go and ogle it.
Not cheap though, RRP is AU$579.95, though you get 10% off if you become a club member ($10 one-off fee), or maybe even more if you wait for a sale. There is also a footprint, for AU$59.95.

See it here:
http://www.paddypallin.com.au/nemo-hornet-1p-ultralight-tent.html



Big Agnes Fly Creek UL1
This is another big-name manufacturer. Again, this frame design results in a very light tent, just 936gm packed weight. Note, this has end-entry, like the NatureHike 1P.
RRP in the USA is US$320, and is available through various stores in Australia, such as Wild Earth (AU$449.50):
http://www.wildearth.com.au/buy/big-agnes-fly-creek-ultralight-1-person-freestandi/tfly114

Notice though, a problem with this design: the restricted foot area.
Notice also, another "problem", it is not truly freestanding -- yes, it will stand up, but needs to be staked to be stable.
NatureHike tent inner and outer skins, poles, stakes, extra guy lines and bags, weighs 1361gm, above the figure given on the Internet!

Substituting my own stakes (99gm), and leaving off the extra guy lines, weight is 1237gm.


| | |
| --- | --- |
| Inner skin | 393gm |
| Outer skin (fly) (with guy lines) | 395gm |
| Poles | 350gm |
| Stakes (12) | 170gm |
| Extra guy lines + 2 x bags | 53gm |
| Footprint + bag | 190gm |
A pleasant surprise, that the footprint is included in the price.
The NatureHike tent is pushing too far above my 1kg target. The other big-name variants are under 1kg (including stakes).
However, I have issues with the pole design. As one reviewer of the Big Agnes Fly Creek UL1 commented, it "collapses in high wind". Yeah, although it can be staked on the sides, the design is fundamentally weak with regard to side gusts.
I am not looking for an Arctic-storm-proof tent. For that, there are specialised tents. But, I do want a tent that can survive blustery weather and typical storms as I will expect in temperate Australia. I have in mind Windy Harbour, a place on the south coast in Western Australia, that lives up to its name.
Regarding foot-area, it is OK. Needs at least six stakes to be usable. I cannot give a tent a tick for freestanding when it must have stakes to be usable.
And, it really does need two more stakes on the side, to pull out the skins and also stabilise the tent, making 8 stakes total.
Ventilation is not quite what I expect either. I want a fly with vent at the top, so that warm air has somewhere to escape. This tent will require the fly door to be fully open, then it is not rain-proof.
I have given a score of 6.5/11, failing 3 (ventilation), 4 (freestanding), 6 (weight), 10 (stable), and half-mark for 5 (easy erect).
The score comes out the same as the Catoma Raider, which failed for different reasons -- but, if I had to choose between the two, it would be the NatureHike.
I purchased this online, sight-unseen, as it seemed to offer all that I was seeking. It seemed that I could tick all eleven boxes.
| | |
| --- | --- |
| Regarding my research prior to ordering, there are not many reviews or user feedback. Only one Youtube video, the guy likes it, but there isn't much depth to the report: | |
Lindsey Daniels, a photographer, has taken some lovely shots of the Soul 1P:
http://www.lindsaydanielsphotography.com/blog/2013/10/gear-big-sky-international-soul-tent
Here is one of her photos:
Note, I bought mine direct from the manufacturer in the USA, however, if you live in Australia, there is a dealer in Melbourne, Backpacking Light. At the time of writing, they are only offering the cheapest base-variant of the Soul 1P, for AU$289. Look here:
http://www.backpackinglight.com.au/store/big-sky-soul-1p-tent/dp/8663
One disadvantage in buying direct from Big Sky is that they might not have your choice of options in stock, which will result in considerable delay before shipping. This was my original order:
| | | |
| --- | --- | --- |
| Fly | Light weight SuprSil fabric outer shell, color: granite gray | SUBTRACT 55g/1.9oz |
| Interior and floor | No-See-Um Mesh Netting interior and SuprSil-3000 floor | SUBTRACT 38g/1.3oz |
| Pole options | Ultra Light weight aluminum, 36cm (14-3/16in) folded length | SUBTRACT 133g/4.7oz |
| Sacks or bags | SuprSil tent bag | |
| Guy line kits | 4 reflective spectra guy lines and 4pc 7.9mm Tube Steak LW pegs | ADD 69g/2.2oz |
| 1P Footprint | Soul 1P ShelterSaver footprint with Grommet kit | ADD 102g/3.6oz |
However, Bob, the owner of Big Sky, changed the fly to this one, presumably as I had asked for immediate shipping:
| | | |
| --- | --- | --- |
| Fly | Ultra Light weight SuprSil-UL fabric outer shell, color: granite gray | SUBTRACT 97g/3.4oz |
You will notice on the website that there are lighter pole options, DuraLite or carbon fibre. I chose the UL aluminum 36cm as I want the shorter poles, to optionally pack horizontally.
Choices! For the tentaholic/gear-head/gear-junkie, this is heaven.
I have paid a premium price for lightness. So, this is how the weight breaks down:
Inner and outer skins, bag, poles and tube stakes, weighs 1013gm.

Close enough to 1kg!

Throw in the footprint, brings up to 1092gm.


| | |
| --- | --- |
| Inner skin | 334gm |
| Outer skin (fly) | 286gm |
| Bag | 14gm |
| Poles | 303gm |
| Tube stakes (4 short, 2 long, in bag) | 76gm |
| Footprint | 79gm |
I love those tube stakes. i had ordered four of the 15cm stakes, but Big Sky threw in some 20cm ones as well.
This is a true freestanding tent, including the vestibule, so belongs to a very exclusive club. It does not require any stakes, however, the fly on the sides needs to be pulled out so as not to touch the inner skin, requiring a minimum of 2 stakes for practical usage.
One or more of the corners can be staked, so it is best to carry 6 stakes. Also, if windy conditions are anticipated, there are loops to provide extra anchoring, in particular for side-gusts, and extra guy lines are needed in this case -- Big Sky provided 4 guy lines for this purpose, weighing 63gm.
This is an extremely light weight for a traditional intersecting-two-hoop dome tent. The poles are two complete hoops, giving it good rigidity, though being a narrow 1P tent it does have some susceptibility to side gusts, making side staking a recommendation.
There are velco strips to attach the fly to the poles, enhancing rigidity, which the NatureHike does not have.
The end-entry is an interesting feature, with built-in vestibule. However, it is a very minimal vestibule, enough to leave the shoes anyway.
At the top of the fly there is an adjustable opening, for ventilation, which is an improvement on the NatureHike.
The internal length is adequate, reasonable space at the foot-end. However, I don't recommend it for people over 6'.
I recognise that some hikers might prefer a more traditional side-entry dome tent, and/or if they are over 6' then they may need extra length. Big Sky have a variant that is the same design as the Soul except for side entry (optionally on both sides) and longer internal space, named the Evolution:


Big Sky Evolution 1P
I don't own this tent, but I want to mention it, as it looks so good. From reading the specs, looking at photos and online reviews, this tent seems to tick all eleven boxes. Plus, it has the side entry, hence bigger vestibule, optionally on both sides, and longer internal space, that many hikers will prefer. Web page:
http://bigskyproducts.com/big-sky-evolution-1p-tent.aspx


I give the Soul 1P a score of 9.5/11.
I decided to be a bit mean and only give a half-tick for Point-4 (freestanding), as the fly needs to be pulled out with stakes.
Only a half-tick for points 10 (stable in wind) and 11 (vestibule). Yes, it is stable in gusty conditions, as long as securely side-staked. Has a vestibule, but minimal.
Further considerations
There are some other things to think about, that didn't make it into my eleven-point list. Probably very minor, but may be relevant issues for you:
Inner and outer skins touching
1P tents have this problem more than 2P, due to elongated shape.

Ease of getting in and out
Some tents you have to crawl into, some you can just step into.

Erecting in the rain
Some tents, you can erect the fly first, then inner skin underneath.

Point-12 may only be an issue when there is a wind blowing. Tents usually provide attachments for guy-lines to pull out the sides of the fly.
Point-13 may be an issue if you have a bad back.
Point-14, well, usually you can wait for a break in the rain, then if your tent erects fast, there is no problem.
Conclusions
I have to laugh. I have just been browsing through some Aussie online stores, and most of the solo tents described as "ultra light" are at least 1.5kg.
If you want to go hiking, pay great attention to weight -- the grams add up very fast!
You can buy a great dual-skin solo tent weighing a kilo or less, including poles and stakes.
Then there are so many designs to choose from, but use my eleven points as a guide, to narrow it down. Actually, Point-4 (freestanding), rules out everything except dome tents (and rules out many dome tents too).
I can put up my Big Sky Soul in a couple of minutes, then only add stakes if there is a breeze, or I feel like doing so.
...you just can't beat that.
Some experienced hikers will come up with a different set of points. Point-4 might not be important to them. Fair enough, we are all different.
Anyway, applying
my
eleven points, I have a winner (for now!).
Regarding the three supplementary points, the Soul 1P scores reasonably well here. Point-12, yeah, has that problem, requires side-staking of the fly. Point-13, just step in, step out, this is fantastic. point-14, the Soul erects so fast, I don't see any problem here.
Field tests
The "proof of the pudding is in the eating". So, actual testing on the trail is required:
(c) Copyright Barry Kauler 2016, all rights reserved.
Please do not copy this page anywhere, instead link to it. I will probably be editing it every now and again, so it is wise to link to this original page.
Tags: light